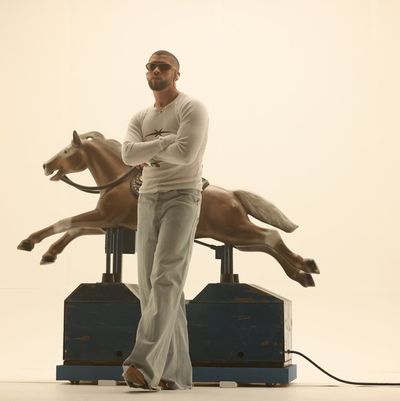 Photo: NBC/WIll Heath/NBC
Are musicians getting funnier, or does Saturday Night Live just wring every last ounce of funny out of them these days?
In previous seasons, pop stars pulling double duty as host and musical guest had nearly as uneven a track record as athletes fronting the show. Last season's one-two punch of Megan Thee Stallion and Jack Harlow, however, delivered back-to-back near-knockouts. Those episodes were funny enough that anyone paying attention to the show should've had high hopes for Bad Bunny's hosting debut. But so should anyone who's been paying attention to Bad Bunny.
The artist, also known as Benito Antonio Martinez Ocasio, has become a lot more famous since he appeared as the musical guest on Regé-Jean Page's SNL in early 2021. Like, really famous. The kind of famous where an Airbnb ad prominently featuring his music plays during the commercials as he hosts SNL. The kind of famous where Lady Gaga comes to the studio just to introduce his first musical performance and possibly (hopefully!) chat about collabbing. Since that last appearance on the show, he's also proven that his magnetism translates to acting, with bit roles in actioners like Fast 9 and Bullet Train and, more substantially, the LGBT wrestling biopic Cassandro. Between this burgeoning thespianism and increased visibility overall, Bad Bunny has become a powerhouse performer who gives audiences what they want and what they didn't know they wanted. And from the looks of this week's SNL, audiences may not have known they wanted him to expand his range to include comedy.
From the throat-clearing of his hilarious, swaggering, Pedro Pascal–assisted monologue onward, Bad Bunny put on one hell of a show and made it look effortless. His calm and casual approach to comedic characters echoed the megawatt coolness he projects in his music, whether he was playing a literal king, an auntie, or, um, Shrek.
Considering that the musician proudly only sings in Español and seldom speaks in English, it was unclear before how this episode would go linguistically. At different points, the show bent in Bad Bunny's direction, and he bent its way. No less than four sketches were rendered mostly in Spanish, breaking format in an exciting new way that ended up a creative success. Considering that last season featured a record-breaking four Latino hosts (Pascal, Ana de Armas, Aubrey Plaza, and Jenna Ortega), it felt like a moment the show has been building toward.
Here are the highlights:
SNL is forever chasing younger viewers bored in a dorm room, meaning the show's most prized demo may not have been born 21 years ago when 8 Mile came out. Eminem was so famous for so long, though, that the climactic scene from his magnum cinematic opus must have seeped into Gen Z's consciousness at some point. In any case, late 2023 turns out to be a perfect time to send up that scene, in which a white MC uses the dubious battle-rap strategy of airing out his own dirty laundry before his opponent can use it against him. Although it worked like gangbusters in the film, here it backfires spectacularly, with Mikey Day's battle rapper bringing up the grossest details from his desperately troubled personal life and his challenger (Bad Bunny) just feeling sad for him. ("Ladies do not love it," Day rap-speaks in perfect Eminem cadence, "when you got two nuts below your thing and two nuts above it.") On a side note, is there a chance this sketch is the result of a brainstorming session where Bad Bunny brought to some writer's mind the fact that Eminem's character in 8 Mile is named B-Rabbit?
Tomato-haters are mad as hell at dinner salads, quite vocal on the subject, and will never change their minds about it. Hopefully, though, they will feel seen and vindicated by this sketch about 16th-century Spanish explorers who bring back riches from their travels — which their king (Bad Bunny) despises, particularly the tomatoes. Alternately called "herpes melon" and "apple that is all goo inside," the tomato gets a savage comeuppance here, but each of the treasures the king and his prince (Marcello Hernandez) rip apart are their own comedic treasures. Although former cast member Fred Armisen returns in this sketch, as he did last season during host Jenna Ortega's monologue, and Bad Bunny's wig nearly steals the show, the standout here is Hernandez. His reactions to each loathed item from the explorers' voyage are so expressive you can feel them at a core level.
What cultural artifact has had a stranger journey in the 21st century than Shrek? One year older than 8 Mile but exponentially more relevant, the character has gone from blockbuster franchise anchor to ironic meme fodder to weirdly prolific Rule 34 casualty and remained sincerely beloved by many the entire time. In other words, he's the ideal figure for an indifferent Bad Bunny to portray in the world of a Please Don't Destroy video. His vision for the character is either a sketch or an entire A24 movie he wrote; apparently, he could go either way. The resulting sketch-within-a-sketch somehow encompasses all aspects of Shrek's singular fandom, along with — why not? — a confused but committed John Higgins as Michael Jackson, and a mission to extract love from the sun. (Don't ask; just watch if you haven't already.)
Weekend Update will occasionally sail across the 15-minute mark, bringing into question whether this part of the show was padded out with topical jokes to fill a void of killer material elsewhere in the episode. At under nine minutes, though, this week's edition is the shortest your recapper can recall, with only one visitor dropping by — Ego Nwodim as Jada Pinkett Smith — instead of two or three. The brevity works in Update's favor, with a hit-to-miss ratio so high, the misses are practically nonexistent. While I would have gladly traded the inert Burt's Bee's sketch that closed out the episode for a solid second desk piece, the lesson of Update overall this week is that sometimes less is more.
If Pedro Pascal is in the building, it would be a crime not to have him reprise his TikTok-beloved Protective Mom from last season. This time around, the character is accompanied by Tia Rosa (Bad Bunny), and "Britney with the vegan sliders" has been replaced by Casey with the Entenmann's cookies. The formula proves sturdy, though, with Pascal's physicality and explosive emotions again sinking three-pointers from all over the court. Protective Mom's unobscured contempt for her son's girlfriend (Chloe Troast) burns with the fury of a thousand passive-aggressive suns as Pascal slowly spills her cookies into the trash, making eye contact with her the entire time, and uses the tin to store all her spare thread-spools. (A nice, lived-in detail.) Bad Bunny fits into this sketch's milieu like a glove, but Hernandez deserves some special recognition here, too. Between this sketch and a pair of other spotlight moments, he had more to do in this episode than any other in his tenure so far, and he did not squander one second of it.
• "Hands gyrating over tummy" is a delightful new tic Bowen Yang has added to his arsenal in portraying George Santos, a person whose entire existence seems built around getting portrayed on SNL.
• When Santos exits the cold open to take a call from Tupac, it is but one of two times Tupac surfaces in this episode, the other being Jada Pinkett Smith's turn at the Update desk.
• Instead of having Mick Jagger host an episode this season, as some have predicted, the Joe Biden–aged rock god popped up in two sketches this week, most notably the telenovela, in which he got to dual-slap both Bad Bunny and Hernandez.
• Bad Bunny's recurring maniacal laugh during that telenovela sketch got bolder, more expansive, and funnier each time.
• Pedro Pascal's Protective Mom wasn't the only sketch from last season to get a sequel; the scene from Will Smith's Pursuit of Happyness that unfolded against the backdrop of every terrible thing that happens on a New York City subway used a format established in the Waffle House sketch from Jenna Ortega's recent episode.
• The IYKYK moment of the night was a blink-and-you-missed-it title card that depicted the cast and Bad Bunny in the album art style of Fania Records, a New York–based label that spread salsa music around the world 50 years ago.
• Rising SNL star Sarah Sherman has been conspicuously limited so far this season, but she did get one great line-read in this week's convent sketch: "Present me with that wiener again and call me Joey Chestnut with how fast I gobble it down."
• Pascal, who could probably be a cast member if he wanted to pump the brakes on his film and TV career somewhat, paid tribute to the show's history during the good-byes when he appeared onstage in a Gilda Radner T-shirt.

………………………………………………………
Article:
In the second episode of its 49th season, "Saturday Night Live" featured the Puerto Rican rapper, Bad Bunny. The episode was loaded with satire, laughter, and musical performances that kept the audience entertained throughout the show.
Bad Bunny, regarded as one of the most-streamed artists in the world, made his SNL debut, gliding effortlessly through his performances and proving his musical prowess to the world. His energetic performance and musical versatility were the highlights of the episode and indeed, the talk of the town.
The episode was a brilliant mix of comedy and music, typical of SNL. Despite being a non-English speaker, Bad Bunny's charisma and talent transcended the language barrier, and he connected seamlessly with the audience.
The Puerto Rican rapper's performance was a testament to his rising global popularity and his ability to captivate audiences with his unique reggaeton sound. His appearance on the show is an indication of his growing influence in the global music industry and how he's breaking boundaries with his music.
The second episode of SNL's 49th season was filled with memorable sketches and music performances, with Bad Bunny's performance standing out. His debut on the show was a significant milestone in his career and a moment his fans will cherish.
In conclusion, the second episode of SNL's 49th season was a hit, thanks to the brilliant performances, especially by Bad Bunny. The Puerto Rican rapper took the limelight, showcasing his talent and proving why he is one of the most-streamed artists globally.
Embedded YouTube video:
[Embed YouTube video here: https://www.youtube.com/watch?v=Jm-Kmw0_-9k]

Source link